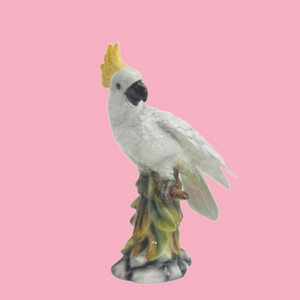 Mango is our white cockatoo statue
She is fierce and fabulous with beautiful hand painted detailing. 
Based on the original designs from 1980s and produced by the same Italian factory we hunted out the creator of our beloved vintage big cats and asked them to produce some more for us. Each ceramic is hand painted by the same crafts-people who have been dedicated to their craft for over 40 years. 
As each item is hand made there will be small variations in the colours and on the surface of the glaze, these are not imperfections merely natural occurrences of a real handcrafted product. 
Hand-painted

Made in Italy

Measures 48cm tall 

This is a brand new item from our manufacturer
Delivery: All our ceramic are shipped in our custom made secure packaging to ensure they arrive with you in perfect condition no matter where you are in the world. We personally guarantee that in the rare occasion your item does not reach you in perfect condition we will of course send out a replacement, no quibble. 
Shipping costs to your exact address are calculated at checkout.
If you have any questions please email us.